As I'm scheduling posts throughout the month and getting the site's ish together and dreaming about a custom layout….I decided to do a stereotypical ten facts about me post.
….also I'm super challenged when it comes to technology, my sister is way better at it. I've just learned to insert gifs into my posts. You have been forewarned.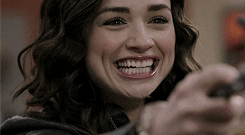 My first and middle names are family names (Rebecca Alora). There are a lot of cousins with variations of the name, which was the name of a beloved matriarch on one of my mother's parent's side of the family. However I am one of two Rebecca Aloras who ironically share the same name down to my last name. We're cousins and the last name comes from two different branches of family.
I hate to match my socks. I feel wrong when I do. I have a shit ton of socks (and I love getting socks) and usually coordinate them, but no matching. I do not know where this aversion comes from, but there you go.
I'm active in a lot of fandoms, but mostly I'm obsessed with Teen Wolf, Whedonverse things, Harry Potter, Marvel, Veronica Mars, and Shondaland. And yes I do go to cons.
My favorite movie is Beauty and the Beast closely followed by The Breakfast Club
 I identify as demisexual. I don't experience sexual attraction without an emotional connection to a person (which is why fanfic erotica is sexy as hell to me cause I have crushes on fictional characters rather than the actor that plays them) and in that arena I identify as pansexual because, personally I fall for personalities, not looks. THIS IS NOT HOW EVERYONE ELSE FUNCTIONS.
I love to buy the people I love presents. I actually see stuff that looks like something my friends/family would love. I hoard it in my closet and give it to the designated person on holidays or when they just need a pick me up.
Next to books and makeup, the only thing I spend major money on (and have to give myself a monthly cap on) is music. I always prefer a physical CD and I still make mix CDs.
Even though I will talk about them, I will almost never post pictures of my nephews for peace of mind and privacy concerns.
I stress organize and bake. Rearranging things help me a lot.
The first time I got on a plane I was 22.

Bonus: I started greying at twelve years old. I'm twenty-six and almost seventy percent gray.